Table Talk
June 19, 2018
Source: kqed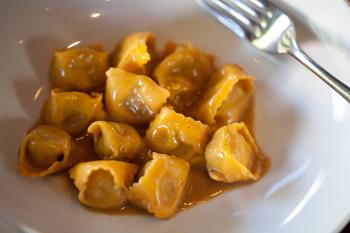 The famous Ristobar plin piemontesi. (Leslie Baum)
SF's Italian Ristobar Pops Up in Larkspur
Emporio Rulli Pasticceria
464 Magnolia Ave., Larkspur
Dinners on June 29–30
Three seatings (5:30pm, 6:30pm, and 8pm)
$60 per person
Visit rulli.com for reservations or call the Larkspur location of Emporio Rulli at 415-924-7478, ext. 3.
Larkspur residents are more than well-acquainted with the Italian sweet treats at Emporio Rulli's Pasticceria, but owner Gary Rulli has just launched something savory in the space as well. While waiting for his San Francisco restaurant, Ristobar, to reopen in the Marina in late August (it's currently being retrofitted), he's hosting a series of Northern Italian pop-up dinners throughout the summer on select weekends.
The chef is Marcello Franceschini, who has spent the past three years in Italy working with Michelin-rated chef Massimo Camia in Piedmont—he was Ristobar's sous chef working alongside Michele Belotti (who opened Belotti in the East Bay). The rotating menus are seasonal, and will even include vegetables, fruits, and herbs grown in Gary Rulli's own Marin backyard garden.
Menu items include two choices of appetizers like insalatina di polpo (octopus, green beans, fennel, celery, Taggiasca olives, toasted pine nuts, in a lemon dressing with an English pea puree) and pasta courses like their famed plin piemontesi (a decadent housemade pasta with braised meat filling, including veal, pork, rabbit, and spinach in a veal reduction and Parmigiano sauce—yes, it's incredible). Second course options include Alaskan halibut with asparagus cream, hazelnut-flavored endive, and squid ink focaccia, or braised veal cheeks with sautéed potatoes and light eggplant parmigiana. Vegetarian options are also available. Of course, you'll want to save room for dessert. Follow their Facebook page for future dates.
External Link: https://www.kqed.org/bayareabites/129051/table-talk-a-gallery-dinner-outdoor-bbq-lunch-and-hawaiian-bento-box