Union Square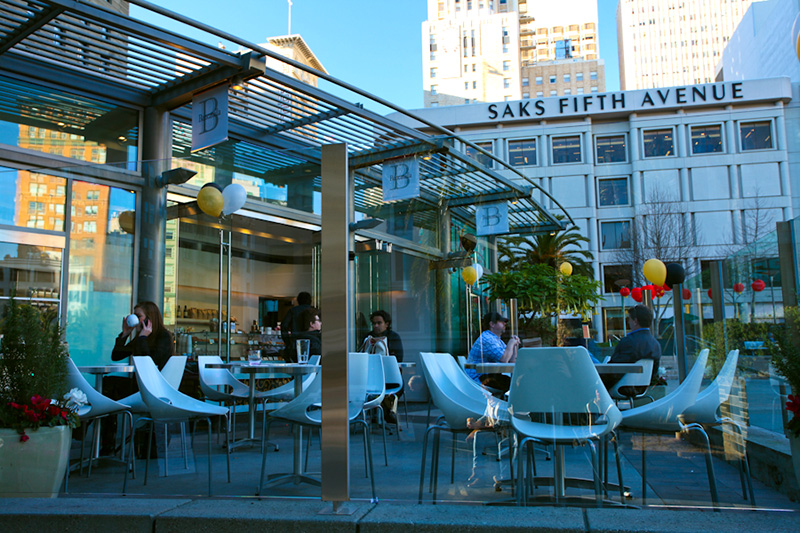 Emporio Rulli Il Caffè & Emporio Rulli Bancarella at Union Square
Providing fresh roasted coffee in the heart of the city to both locals and guests from around the world, Bancarella & Il Caffe'allows travelers a unique opportunity to experience the pulse of San Francisco enjoying savories and sweets.
Our modern sleek Euro-style offers a variety of dining options from panini to salads & salumi/formaggi, platters to pair with a local brewed beer or wines from Healdsburg.
We also offer a variety of our retail products from logo ware, baked goods, chocolates and jams all hand-crafted at our flagship Historic Downtown Larkspur location.
With a menu that features Rulli's handmade Italian artisan pastries & sandwiches, house roasted specialty coffee drinks and other fine items to go along with shaded outdoor seating and Italian Wines and Beers, Emporio Rulli Caffè at Union Square is the ideal stop for the person heading to work or taking a break from a long day of shopping. We also offer catering services to those shops around the Union Square area or large parties at the Ice Rink.
Addresses
Emporio Rulli Il Caffe, 225 Stockton Street @ Post Street, On Top of Union Square at Post & Stockton Streets
Emporio Rulli Bancarella, 350 Powell Street @ Geary Street
unionsq@rulli.com
Hours of Operation
Open Daily 8:00am – 7:00pm
(Open later during Summer & Holiday Season)
*Closed Christmas Day
Directions
FROM SAN JOSE/SOUTH BAY
Take I-880 North. Merge onto US-101 North
Take I-80 East
Take the Forth Street Exit
Take a slight left onto Bryant Street
Turn left onto 3rd Street. 3rd Street will become Kearny Street
Turn left onto Geary Street, proceed 2 blocks west
Union Square will be on your right
Union Square Garage entrance available on Geary between Stockton & Powell Streets
FROM OAKLAND/EAST BAY
Take I-80 West
Take the Fremont Street Exit
Turn left onto Fremont Street
Turn left onto Howard Street
Turn right onto 3rd Street; 3rd Street will become Kearny Street
Turn left onto 3rd Street. 3rd Street will become Kearny Street
Turn left onto Geary Street, proceed 2 blocks west
Union Square will be on your right
Union Square Garage entrance available on Geary between Stockton & Powell Streets
FROM SANTA ROSA/ NORTH BAY
Take US-101 South cross the Golden Gate Bridge
Turn right onto Van Ness Avenue/US-101
Turn left onto Broadway Street. Broadway Street will become The Broadway Tunnel. The Broadway Tunnel will become Broadway Street
Turn right onto Stockton Street. Stockton Street will become the Stockton Street Tunnel. The Stockton Street Tunnel will become Stockton Street; proceed 2 blocks south to Post Street
Union Square will be on your left
Union Square Garage entrance available on Post between Powell & Stockton Streets