Breadsticks
June 20, 2007
Source: San Francisco Chronicle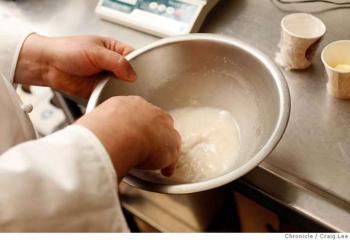 With all the superb artisan salumi in Bay Area markets these days, home cooks have a running start on antipasto. To a platter of soppressata, prosciutto and mortadella, add some olives, peperoncini and breadsticks, and the first course is done.
But the fine cured meats from the likes of local producers Fra' Mani and Fatted Calf deserve better than those bland industrial breadsticks in the package. These salami-loving times call for homemade grissini, and yes, you can do it.
At Italian cafes and restaurants like Emporio Rulli and Perbacco in San Francisco, house-made breadsticks vanish as quickly as the kitchen can make them. At Rulli, the skinny spears stand jauntily in tall glasses, accompanying an assortment of cured meats, green Castelvetrano olives and dried-fig compote. "People come in just for the breadsticks," says chef-owner Gary Rulli. "They always ask if we sell them." Sadly, no.
At Perbacco, the kitchen bakes anywhere from 2,000 to 4,000 breadsticks a day. "I have two guys that basically work full-time making breadsticks," says chef Steffan Terje.
Perbacco's bakers use the grissini recipe from Carol Field's book, "The Italian Baker" (Morrow), with minor adjustments.
They spritz the breadsticks, just before baking, with a little water and sprinkle them with kosher salt. And because of the volume the kitchen makes, the bakers don't shape the breadsticks by hand. Instead they feed the flattened dough through a pasta machine fitted with a fettuccine cutter.
But unless you are making a large quantity, it is probably easier to cut the dough by hand than to set up, clean up and put away a pasta machine.
Rulli's recipe is based on one he learned while baking professionally in Milan and Turin years ago. For reasons lost to time, Turin is grissini central. According to Field, grissini have been made in Turin since the 17th century, and they caught on quickly; Napoleon was a fan and had them shipped to court every day.
Rulli adds a little semolina flour to his formula because he likes its nutty taste. The traditional Torinesi recipe calls for lard, but Rulli uses olive oil and butter instead. The butter makes a crunchier breadstick than olive oil would alone, and it enhances the flavor.
Today, the residents of Turin wouldn't think of making breadsticks at home because every bakery has them, says Rulli. Breadsticks are part of the table setting in the local trattorias, and the sound of the waxy paper packages popping is the sound of a meal getting under way.
With either Field's or Rulli's recipe, homemade grissini are a cinch to make. Her dough is slightly easier to handle; his results are perhaps a little nuttier and crunchier, with that faint butter taste.
For the best results, try to make the breadsticks of even thickness throughout so they cook evenly. And be sure to bake them until they are lightly browned all the way through. (Break one open to check.) If you remove them from the oven while they are still pale inside, they will go stale more quickly.
You can keep breadsticks at room temperature, unpackaged, for three to four days. Reheat them in a moderate oven to restore their crunch. Breadsticks freeze well if you can find a bag long enough to hold them.
They do break easily, but as is widely known, the broken ones have no calories.
---
Where to find fresh breadsticks
Here are a few places to find freshly made breadsticks:
A.G.
Ferrari. In San Francisco, Oakland, Belmont, Berkeley and Corte Madera.
Draeger's Markets. 222 E. Fourth Ave. (at Ellsworth), San Mateo; (650) 685-3700. Also 1010 University Drive (at Santa Cruz Ave.), Menlo Park; (650) 324-7700; and 342 First St. (at State St.), Los Altos; (650) 948-4425.
Emporio Rulli Gran Cafe. 2300 Chestnut St. (at Scott), San Francisco; (415) 923-6464.
Genova Delicatessen. 5095-A Telegraph Ave. (at 51st Street), Oakland; (510) 652-7401. Also 1550 Trancas St. (at California St.), Napa; (707) 253-8686.
Il Fornaio, in San Francisco, Burlingame, Corte Madera, Sausalito and Walnut Creek.
Perbacco. 230 California St. (near Front), San Francisco; (415) 955-0663.
Lucca Delicatessen. 2120 Chestnut St. (at Steiner), San Francisco; (415) 921-7873.
Lunardi's Supermarkets. In Burlingame, Belmont, Los Gatos, Walnut Creek, San Jose, San Bruno and Danville.
Pasta Shop. 5655 College Ave. (at Shafter St.), Oakland; (510) 547-4005. Also 1786 Fourth St. (near Hearst), Berkeley; (510) 528-1786.
Pizzeria Delfina. 3611 18th St. (near Guerrero), San Francisco; (415) 437-6800.
---
Carol Field's Grissini Torinesi
Makes about 32
Adapted from "The Italian Baker" by Carol Field (Morrow Cookbooks, 1985). Malt syrup is available at some natural food stores such as the Food Mill in Oakland.
INGREDIENTS:
1 3/4 teaspoons active dry yeast
1 tablespoon malt syrup
1 1/4 cups warm water
2 tablespoons olive oil + more for brushing the dough
3 3/4 cups unbleached all-purpose flour
1 1/2 teaspoons kosher salt + more for sprinkling
1/2 cup semolina flour for sprinkling
INSTRUCTIONS:
Instructions: Stir yeast and malt into warm water in the bowl of a stand mixer. Let stand until foamy, about 10 minutes. Mix in 2 tablespoons oil with paddle attachment. Add flour and salt and mix until dough comes together. Change to dough hook and knead at low speed about 3 minutes. Finish kneading briefly by hand on a lightly floured surface. Alternatively, you can mix dough by hand and knead by hand until dough is smooth, soft, velvety and elastic, 8 to 10 minutes.
Pat the dough with your hands into a 14- x 4-inch rectangle on a well-floured surface. Lightly brush top with oil. Cover with plastic wrap and let rise until doubled, about 1 hour.
Sprinkle dough with semolina flour before cutting and stretching. Cut dough crosswise into 4 equal sections, then cut each section into 8 strips about the width of a finger. The dough is so elastic that you can simply pick up each piece and stretch it between your hands to fit the length of a baking sheet. Place the breadsticks on lightly oiled baking sheets.
Preheat the oven to 400°. Just before baking, spray the breadsticks lightly with water and sprinkle with kosher salt. Bake the breadsticks until light brown and crisp, 20 to 25 minutes.
Per breadstick: 65 calories, 2 g protein, 12 g carbohydrate, 1 g fat (0 saturated), 0 cholesterol, 100 mg sodium, 0 fiber.
---
Emporio Rulli's Grissini Torinesi (Turin-Style Breadsticks)
Makes about 5 dozen
INGREDIENTS:
The dough
1 tablespoon active dry yeast
1 1/2 cups lukewarm water (about 100°)
3 cups + 2 tablespoons unbleached bread flour
2/3 cup semolina flour
2 tablespoons unsalted butter, softened
1 tablespoon extra virgin olive oil
1 tablespoon kosher salt
For shaping
1/2 cup unbleached bread flour
1/2 cup semolina flour
1/2 teaspoon salt
2 tablespoons extra virgin olive oil
1 tablespoon water
INSTRUCTIONS:
For the dough: In a small bowl, sprinkle the yeast over 1/4 cup of the lukewarm water and let stand 2 minutes to soften. Whisk with a fork to dissolve the yeast, and let stand 5 minutes to activate.
In the bowl of a stand mixer, combine the yeast-water mix, bread flour, semolina flour, butter, olive oil, salt and remaining 1 1/4 cups water. Mix with a dough hook on medium speed for about 10 minutes; the dough will clear the sides of the bowl. Alternatively, mix the dough by hand with a wooden spoon, then knead by hand for 10 minutes.
Shape the dough into a ball and place in an oiled bowl. Turn to coat the dough with the oil, cover the bowl with plastic wrap, and let the dough rise until doubled, about 1 hour.
For shaping: Combine the bread flour, semolina flour and salt in a small bowl and stir to blend. In another small bowl, combine the olive oil and water.
Lightly oil four heavy-rimmed baking sheets (or bake in batches).
Sprinkle the work surface thickly with the flour mixture. Turn the dough out onto the work surface and flatten it with a rolling pin into an 18- x 6-inch rectangle. If the dough feels too soft and slack to shape the breadsticks, transfer the dough to a floured sheet pan and place in the freezer for about 10 minutes to firm it. Return it to the floured work surface before continuing.
Brush the surface of the rectangle with the oil-water mixture, then sprinkle generously with some of the flour mixture. With a chef's knife, cut the dough into 6-inch by 1/4-inch strips, cutting just a few at a time. With your hands, pick each strip up by the ends. The dough is so supple that it will elongate as you lift it. Allow each strip to become only as long as the baking sheet, then arrange them side by side on the baking sheet, close but not touching. Let rise about 30 minutes.
Preheat oven to 350°. Bake the breadsticks until caramel-brown all the way through (test by breaking one open), about 30 minutes. Cool on a rack.
Per breadstick: 50 calories, 1 g protein, 8 g carbohydrate, 1 g fat (0 saturated), 1 mg cholesterol, 125 mg sodium, 0 fiber.
External Link: http://www.sfchronicle.com/recipes/article/Breaking-breadsticks-Forget-the-bread-basket-2572537.php