Emperor of panettone, Gary Rulli, ramps up for the holidays
December 19, 2015
Source: SFGate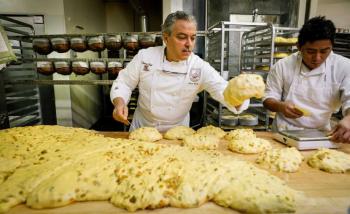 During the holiday season, Emporio Rulli overflows with panettone.
Owner and pastry chef Gary Rulli has turned the traditional Italian holiday sweet bread into the signature offering at his Larkspur destination bakery and cafe. For the last two months of each year, he and his staff shift panettone production into overdrive, producing more than 10,000 pounds — roughly 200 loaves per day.
But Rulli's panettone Milanese, made with a natural yeast starter, is no regular holiday pastry; it is the result of a handcrafted process that Rulli has perfected over a quarter century. Each loaf, from start to finish, takes more than 30 hours.
Rulli learned the basics of panettone as an apprentice in Milan 35 years ago, but it was his mentor, acclaimed Bergamo pastry chef Achille Brena, who taught him the art. Brena gave Rulli the yeast starter that he uses to this day, part of the starter that Brena's teacher — a panettone master from the 1930s — gave to him. Rulli estimates that his starter is probably 85 years old.
External Link: http://www.sfgate.com/food/article/Emperor-of-panettone-Gary-Rulli-ramps-up-for-5937973.php