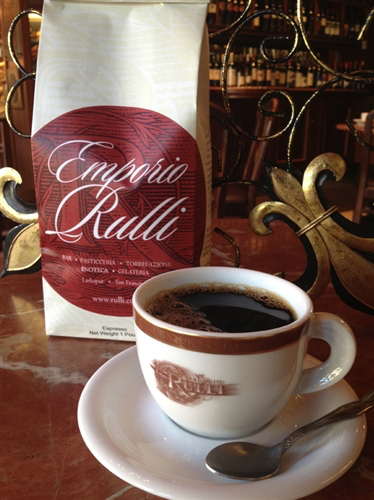 Emporio Rulli Traditional Coffee Blends

$14.00
About This Emporio Rulli Traditional Coffee Blends
Choose from among Emporio Rulli's traditional coffee blends.
Our Fantasia Coffee Blend — pronounced fanta-ZEE-ah — is a Vienna roast of Indian, African and Central American coffees, with the addition of French Roast, gives this blend an exotic taste with a hint of smokiness.
Our L'Isole Coffee Blend — pronounced lee-zol-eh — is a marriage of the finest Indonesian coffees creates this smooth yet complex blend, which is given a full city roast to bring out the maximum flavor in each bean; heavy-bodied and perfect with cream.
Our Principe Coffee Blend — pronounced prin-chee-peh — is a smooth, velvety blend of Ethiopian Sidamo and Estate Java with floral highlights - makes a wonderful breakfast coffee.
Our Vienna Coffee Blend is a medium roast of Central America and Indonesian coffees gives this blend a rich, complex flavor with light acidity and full body.
Our French Roast is our darkest roasted blend of Central American and African coffees is roasted to peak temperature, caramelizing the beans to bring out a rich, smoky and complex flavor. For dark roast lovers only!
Not to be confused with other blends of the same name, for our Italian Roast Espresso Blend, we blend seven types of beans from around the world to create an authentic Italian espresso - roasted to a deep chocolate brown for maximum flavor while still retaining its characteristic sweet, nutty flavor. Full-bodied without the bitterness - espresso as it should be!